Pot clay is limited natural resource created by the earth over an eternity of time.
In order to continue utilizing such limited resource far into the future,
companies from the Mino ware production area have voluntarily come together to build a recycling system for ceramics.

Once-fired ceramics are pulverized to fine powder and mixed with new clay,
which is then used to create new ceramic-ware.
This series is made from such material.
VISION
GL21
GREEN LIFE 21PROJECT (GL21) is an earthenware recycling project. It attempts to reuse unnecessary earthenware to make material for creating new pieces.
The raw material for earthenware is extracted from earth. However, once it is fired, it cannot be decomposed back to it's original state even after thousand years. The only place to dispose old earthenware has been in a landfill.
Will it be possible to recycle it into material for earthenware once again? The answer to this question has lead to "Re-plateware", which is created using recycled clay. Old earthenware is pulverized into particles smaller than 1mm and kneaded into new clay at a rate of 20 percent or more. (50 per cent is now being experimented.) TRIP WARE contains 20 percent of recycled material.
GL21 is made possible by the organization of companies that take part in collecting, transporting, pulverizing old earthenware, producing clay, creating, and distributing the "Re-plateware."
Raw materials for pottery such as clay, feldspar and silica are all limited natural resources created by the earth over an eternity of time. GL21 is a significant activity to help conserve natural environment by giving new life to old earthenware and reduce consumption of limited materials.
RECYCLE
*There are areas collecting earthen ware for recycling. For more information, visit the website of GL21.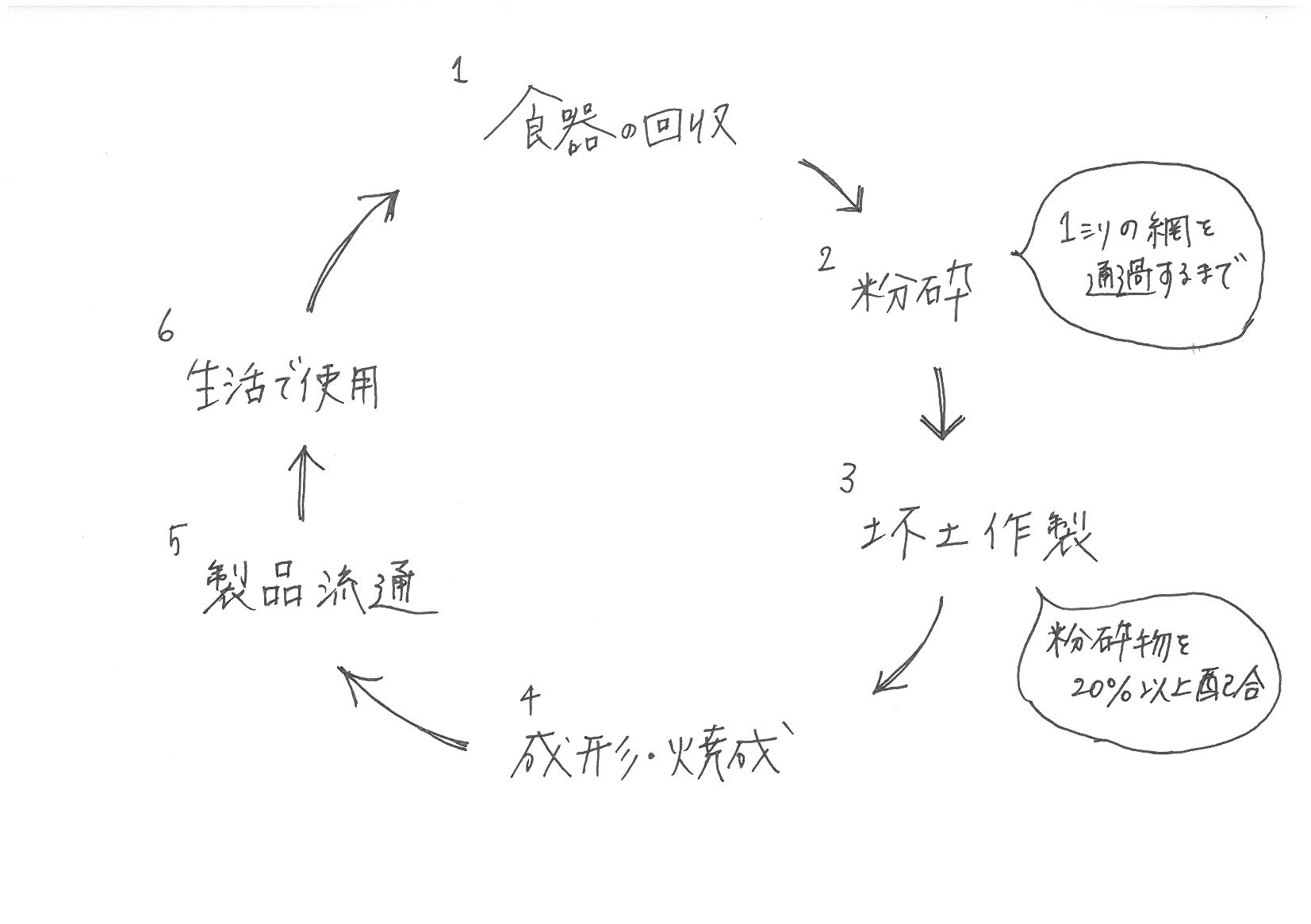 About the logo mark
Dummy. The circle, which is based on the image of resource recycling, is used as the base color because 20% of Tripware's raw materials are recycled 坏土.
The dots highlight the 20% portion of the circle graph. The design is the brainchild of graphic designer Akitaka Maruyama.
*Inquiry about the logo mark
There are many situations where a storage container comes in handy.
You might want to keep dinner ready for a family member that would eat later,
or you might cook extra portions for the next day.
As TRIP WARE is designed as tableware as well as a container,
it serves food nicely just as it has been stored.

*Microwave safe/Dish washer safe
【Glaze Color】
left to right: White / Water Blue / Green / Ivory / Caramel
Pumphlet
Catalog
Pricelist
PRODUCTS
NEWS
News
ABOUT
About
Contact

市原製陶株式会社 
〒509-6101 岐阜県瑞浪市土岐町市原6388 
Tel. 0572-67-2141 
Fax. 0572-67-1245 
E-mail. mail@ichihara-st.co.jp